Passly-Autotask Billing Integration Saves Time, Streamlines MSP Billing
Customer billing just got easier for managed service providers (MSPs) with the new integration between Passly and Autotask PSA, an IT business management platform commonly used by MSPs.
The new billing integration feeds MSPs' Passly client usage and licensing data into Autotask, helping partners automate customer invoice creation, save time and ensure their clients are always accurately billed for the protection they are receiving.
In addition to Passly, Autotask now has billing integrations with other Kaseya Security and Audit & Compliance products, including Graphus, Dark Web ID, RocketCyber, Network Detective Pro and Compliance Manager GRC. The integrated billing eliminates hours of back-office work at the end of the month to reconcile usage and create client invoices.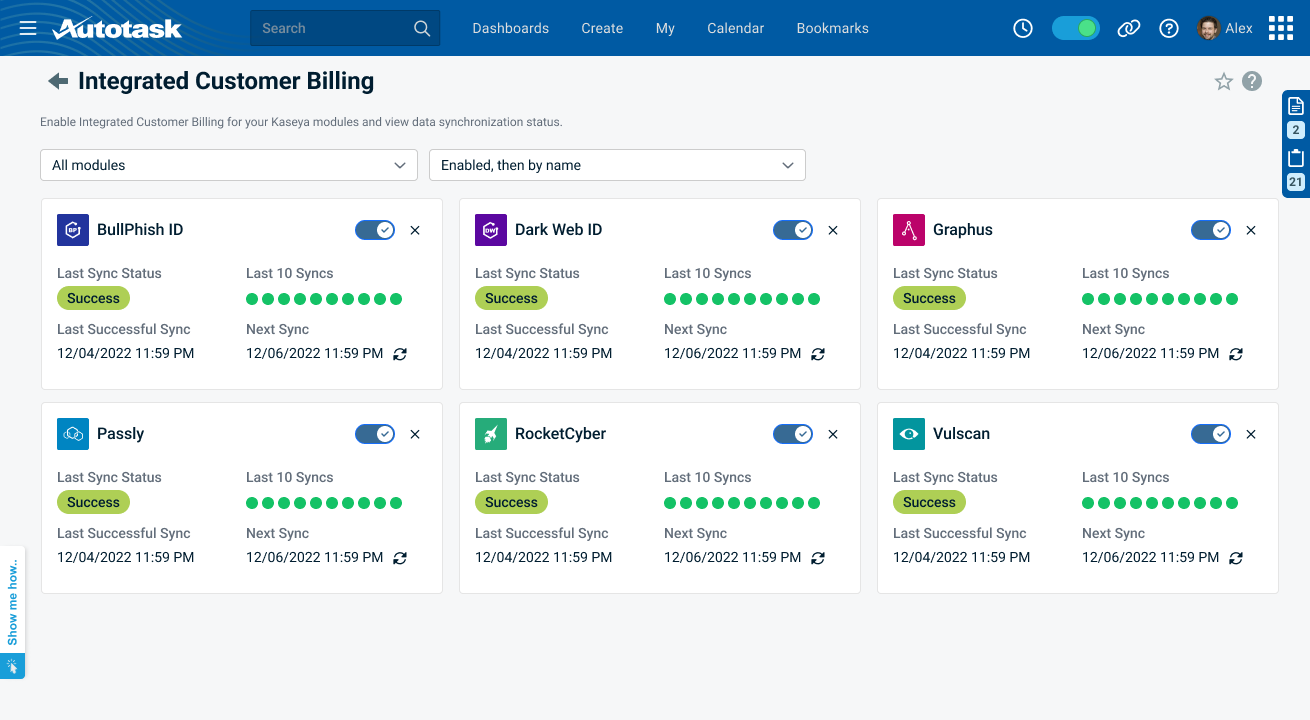 Note that you must have subscriptions to both Passly and Autotask to enable this integration. Please visit the Knowledge Base to learn how to configure this functionality.
If you're not an Autotask customer, learn how Autotask can provide the insights needed to grow your business and the automation to increase profits by requesting a demo.
New Passly Enhancements and Integration Save You Time
The Passly team is excited to announce new directory sync capabilities and a new workflow integration with BullPhish ID. The new integration streamlines customer onboarding and campaign management in BullPhish ID and advances the Kaseya IT Complete vision by making our product modules work together to simplify the lives of our customers.
If you have both Passly and BullPhish ID:
You can now leverage Passly's Active Directory sync capabilities to quickly onboard customers onto BullPhish ID and create campaigns with up-to-date lists of targets and groups. Passly will serve as "the user store" for BullPhish ID, so any personnel changes in Active Directory will sync from Passly to BullPhish ID, ensuring an always-accurate list of employees to train.
If you don't have BullPhish ID:
If you are looking to add a security awareness training (SAT) solution to your stack or shopping around for a new SAT vendor, this new integration gives you a great reason to take a closer look at BullPhish ID — our phishing simulation and security awareness training platform.
To conduct effective security training campaigns, you need a current, accurate list of targets to be trained. The new integration with Passly ensures the targets and groups within BullPhish ID are always up to date, greatly simplifying the new SMB organization setup and ongoing campaign management.
How to enable the integration if you have both Passly and BullPhish ID:
First, log in to your Passly account, navigate to the Integration Manager section, generate an API key for BullPhish ID and copy it.
Next, log in to your BullPhish ID account, navigate to Targets & Groups, then Directories. Click the + Add Directory Sync button to create a sync between an organization and a Passly directory.

Click here for detailed instructions on enabling the BullPhish ID-Passly integration.
Passly Introduces Enhanced Protection for User Accounts via Dark Web ID Integration
Passly will help IT admins ensure their users act faster to change their passwords in the event they've been compromised — before damage is done.
How it works:
The integration with Dark Web ID* creates real-time notifications any time a Passly user has their account exposed on the dark web.
Passly will alert IT admins to the activity and, optionally, trigger a password change.
This capability is enabled automatically when Dark Web ID and Passly are used together. No configuration is required.

For more details about this feature, check out this article.
*You have to subscribe to both Passly and Dark Web ID to take advantage of this integration.
Passly Introduces Safer Password Sharing
The Passly team is excited to introduce a new feature that offers our customers a safer way to use passwords for shared web accounts.
IT admins can now share passwords with users without exposing them.
How it works:
A new password vault "Launch" user permission type lets users access shared work accounts without actually seeing or knowing the password.
This eliminates the need to change/rotate passwords after they have been seen or after the user leaves the company.

Check out this article for more details about this feature.
Enhanced Integration With Dark Web ID Protects Passwords in Passly Password Server
The Passly team is excited to introduce a new Dark Web ID workflow integration that protects the passwords in Passly Password Server. This integration is housed within the new Integration Manager section, which is accessible via the left-side menu, and will serve as the hub for all Passly integrations going forward.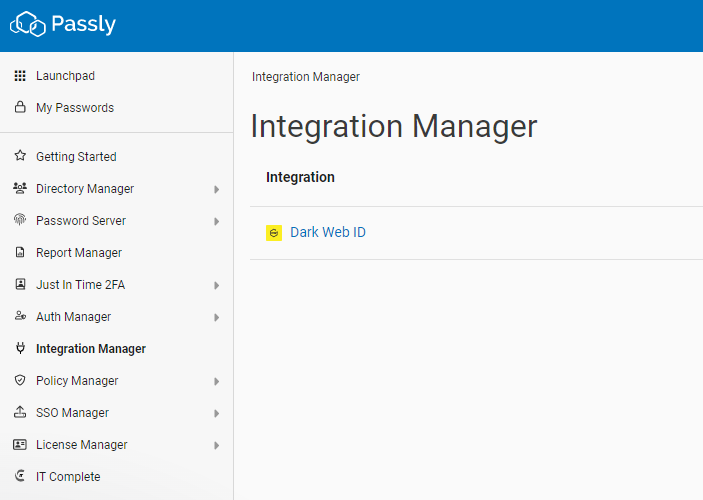 The new Dark Web ID workflow integration protects the passwords in Passly Password Server in three different ways:
It blocks the imports of CSV files that contain compromised passwords confirmed with Dark Web ID.
It scans shared password vaults for compromised passwords.
It blocks compromised passwords from being entered into shared vaults.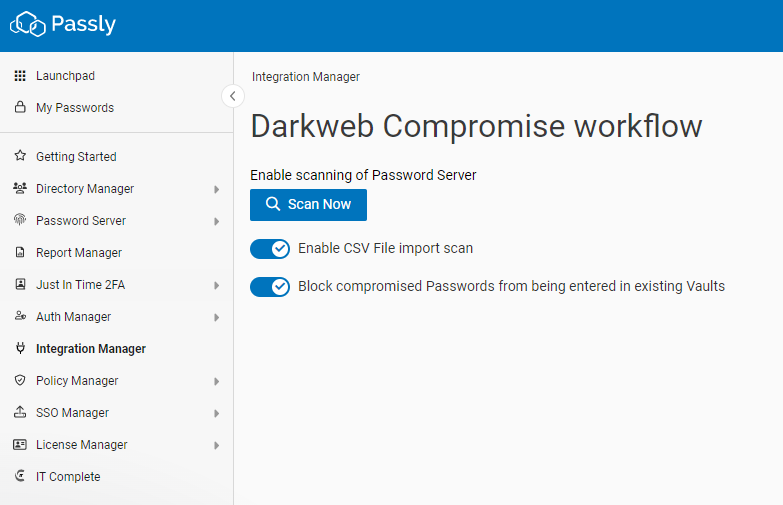 Check out this Knowledge Base article for more information on configuring the integration.*
* You must have subscriptions to both Passly and Dark Web ID to take advantage of this integration.
Passly Enhancement: Transition to Microsoft Graph API
Passly now uses the Microsoft Graph API for group synchronization during federation of Microsoft 365 tenants and domains. You can now sync Microsoft 365 groups/security groups, etc., from Microsoft into Passly. Multiple domain M365 tenants are now supported with Passly.
Click here for the new setup guide related to this integration.
Upgraded Dark Web ID Integration Brings in Most Current Compromise Data
Passly has upgraded its existing integration with Dark Web ID and now uses Dark Web ID's Compromise Engine 2.0. This ensures that Passly receives the most up-to-date compromise data from Dark Web ID, ID Agent's dark web monitoring solution.
For details about this release, click here.
New Report Manager and Password Server User Reporting
The Passly team is excited to introduce the new reporting functionality, which has been the No.1 most requested feature by our customer base. The first report released this week is the Password Server user report, which will give our customers the ability to see user activity inside Password Server, including what passwords any individual user knows/can see, and what passwords and vaults they may have accessed. This is the first in a series of product reports we plan to introduce this year, with additional reports coming throughout 2022.
To check out the new report, click on the new Report Manager menu item on the left side of the Passly dashboard. To run a report, select a user whose activity you want to see.
One use case for the new Password Server user report for MSPs is employee offboarding. You will be able to see what passwords the offboarded employee still knows, so you can initiate any necessary password changes.
Another possible use case for the report is user activity audits to see if any staff members are accessing passwords in the vault that they don't have any business reason to access.
Check out this Knowledge Base article for details about the new report.
Password Server Exporting
Passly now supports the exporting of passwords from the Passly integrated Password Server.
You can export clear text passwords from one or more vaults in Passly and get a CSV file containing password data. To use this function, users will need to be added to the Vault Exporter role.
This feature has been requested by our MSP customers. As an MSP, you can utilize this new capability to facilitate customer offboarding and create a physical backup of their credentials.
Get the password exporting instructions and best practices in this article.
New Kaseya IT Complete Login Option in Passly
Passly administrators can now enable a new Kaseya IT Complete user login option, "Login with IT Complete." Once the option is enabled, each user can navigate to "My Profile" and enable their own login change. See the release notes for details and the list of supported browsers.
You can use the "Login with IT Complete" option to have a single login across all your Kaseya products. Soon, you will be able to access all Kaseya apps through a Kaseya One app launcher (similar to how one accesses all Microsoft Office solutions online by logging in once).
Currently, access to Kaseya One is by invite only, but will be open to all Kaseya customers eventually. If you are interested in getting access to Kaseya One, please contact your Account Manager.
Please see this article for more information on Kaseya One and enabling your login.
Windows Logon Agent Auto Update
We released an update for the Windows Logon agent to support self-updating. Passly's Windows logon agent has now added automatic updating. This allows the agent to be updated without admin action whenever we roll out a new version. No more logging into each machine to manually update it.
New Browser Extension Capabilities: Auto Add & Auto Update
Password Vaults are getting smarter – now, when you enter credentials to log in to a site that is different from what is in your Password Vaults, we'll ask if you want to add it to update your vaults. This allows users to save all their web logins directly into their own Individual Vault.
Introducing: Passly Certified Administrator Course
Become a Passly expert by taking our new online Certified Administrator course! We recommend that at least one Passly administrator per tenant is certified. Certification ensures a better understanding of the user experience, the endpoints and their configuration.
Passly Updates Browser Extension
Passly users can now directly access Single Sign-On (SSO) Launchpad and Password manager with our new browser extension, eliminating the need to first access the Passly web interface. Simply login to the browser extension using existing policies to securely access applications and credentials.