New Integration With BullPhish ID Makes Managing Phishing Simulation Campaigns a Snap
BullPhish ID, Kaseya's security awareness training and phishing simulation solution, has introduced the Advanced Phishing Simulations (aka Drop-A-Phish) feature, a major enhancement that leverages a new integration with Graphus to eliminate the need for domain whitelisting and ensure 100% campaign deliverability to end users.
This integration makes conducting phishing simulation exercises and security awareness training campaigns easy and fast by removing the need to whitelist sending domains or IP addresses. Instead, the Graphus API gives BullPhish ID the ability to place phishing and training emails directly into end-user inboxes as opposed to sending them through the internet, saving customers hours of whitelisting time.
This feature creates a unique advantage for BullPhish ID. Most of its competitors in the phishing simulation training space do not have this capability, so their customers must whitelist the vendors' sending domains before they can start training their users.
How to Enable:
IMPORTANT: You must have subscriptions to both BullPhish ID and Graphus to enable this integration.
First, log in to Graphus and copy the BullPhish ID API key in the Integrations tab.

Then, go to BullPhish ID and paste the API key in the Integrations tab.

Once the API key is verified, BullPhish ID will sync all organizations with domains that exist in both Graphus and BullPhish ID, and for those organizations, whitelisting will no longer be needed.
Need details? We put together a Knowledge Base article on how to enable this integration.
Take advantage of the powerful new workflow integration between BullPhish ID and Graphus today by adding BullPhish ID to your security stack. Not only will you benefit from using best-in-class anti-phishing email security and security awareness training and phishing simulation platforms, you will also gain extra time savings and efficiencies from the integration between them.
Interested in learning more about BullPhish ID? Click here for details and to request a demonstration from one of our Security specialists.
Graphus Releases MSP User Experience Improvement Package
During the second quarter of 2022, Graphus introduced several new MSP-focused settings and features to improve customer experience including:
Bulk Whitelisting
MSPs can now upload entire lists of domain names and IP addresses simultaneously to speed up the whitelisting process. This can be beneficial if you need to add a large number of entries or if you are transitioning from another provider and want to import your existing whitelist.
How it works:
Simply download our Excel template, add your whitelist entries and upload the document to the Graphus portal. You can use Bulk Whitelisting for a single organization within the Organization settings page or apply it globally to all existing organizations and/or future organizations (as a default whitelist).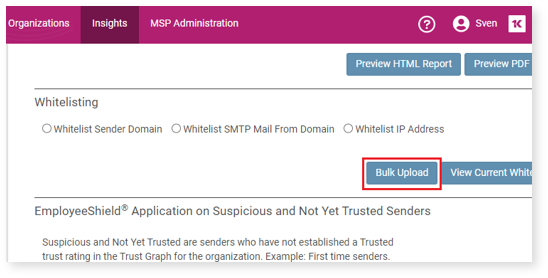 Organization and User Management Improvements
Maintain good data hygiene within your organizations and users. MSPs can now delete a user or organization instead of just disabling them. While disabling an organization stops the email processing for this organization, deleting it will also remove all data associated with the organization.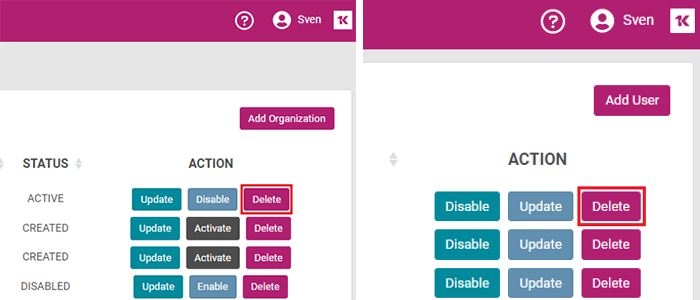 Daily Insights Reports Is Now a Global Setting
Daily insights reports provide you with a daily phishing defense report for your customers. Instead of activating it for each organization individually, you can now set it up as a default feature for all future organizations or certain existing organizations on the Global Settings page.

Authentication Skip for EmployeeShield Interactions
MSPs can now turn on the Skip Recipient Authentication setting to allow end users to skip authentication with Microsoft 365 or Google Workspace when interacting with the EmployeeShield banner.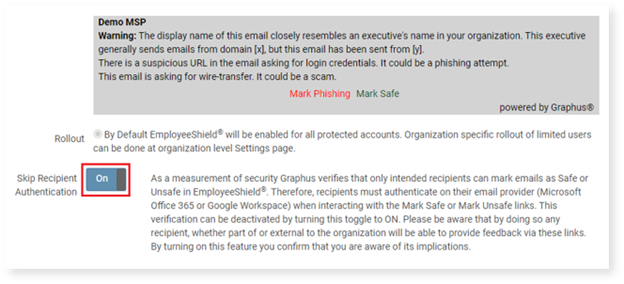 Accuracy of EmployeeShield® Warnings Improved
The Graphus team implemented AI-driven messages to increase the accuracy of EmployeeShield banner warnings for new senders. Graphus will now differentiate between emails that come from a first-time sender versus a not-yet-trusted sender.
Graphus will show the following warning for first-time senders: "Sender has never sent any emails to your organization." For a sender that has sent more than one message but is not yet categorized as a trusted sender, EmployeeShield will show the following new warning: "Sender is not yet trusted by your organization."
See more details on this enhancement here.
Learn How to Use Popular Graphus Features with In-App Training Videos
Customers can now watch brief Graphus training videos from within the application's Insights page of an organization or the MSP Administration page. A Play icon or Video Tutorials link in the bottom left corner of the page will open the video selection.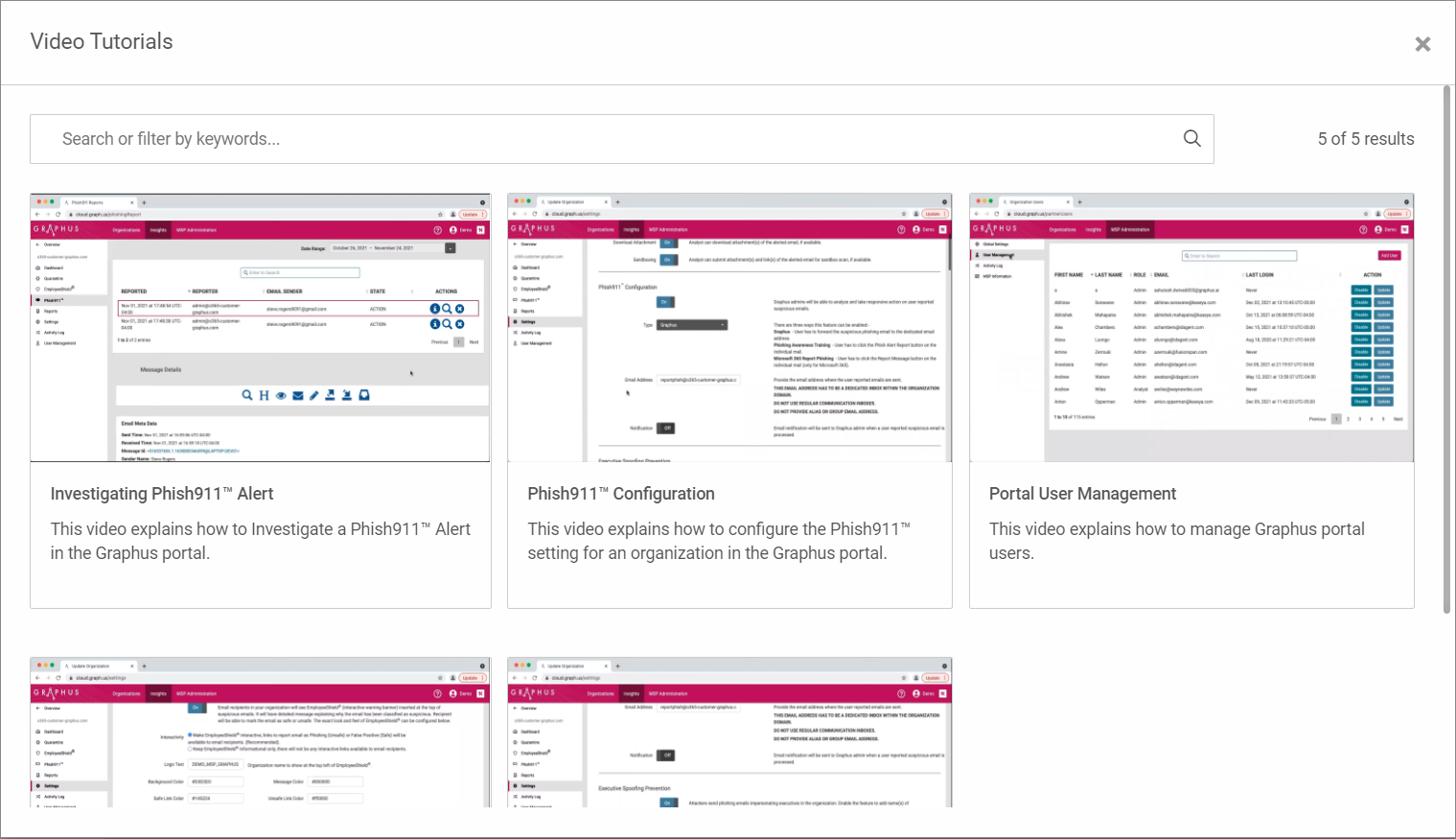 Currently, there are five videos on the most frequently asked about features. More videos will come in subsequent releases. Read more about the in-app videos here.
Users can now choose from four different pagination options (10, 25, 50 or 100) on the Quarantine, EmployeeShield and Phish911 pages. Prior to this release, a maximum of only 10 records were displayed at a time.
Read more about this feature.
Get More Flexibility on Graphus Notifications
This enhancement enables our customers to choose for which category they want to receive Graphus Alert email notifications or publish an event to the configured SIEM or Ticketing System.   After enabling Graphus Alert email notifications, a customer can choose for which of the following three categories they wants to receive notifications via email: Quarantine, EmployeeShield or Phish911. To implement this change, we removed the Notification button from the Phish911 Configuration section to avoid redundancies.   Similar to the email notification, a customer can now choose if Graphus should publish an event to a SIEM or Ticketing System only for Quarantine, EmployeeShield or Phish911, or any combination of the three.
Get the details about the alert email notifications and SIEM/Ticketing Integration.
Dashboard Performance Improvement: Custom Date Range Adjusted
To ensure optimal performance, the customized date ranges have been restricted to 45 days in the Insights section of the Dashboard page. Now, Custom Range cannot go back more than 45 days. This limit does not affect other pages like Quarantine, EmployeeShield or Phish911.
Get more details here.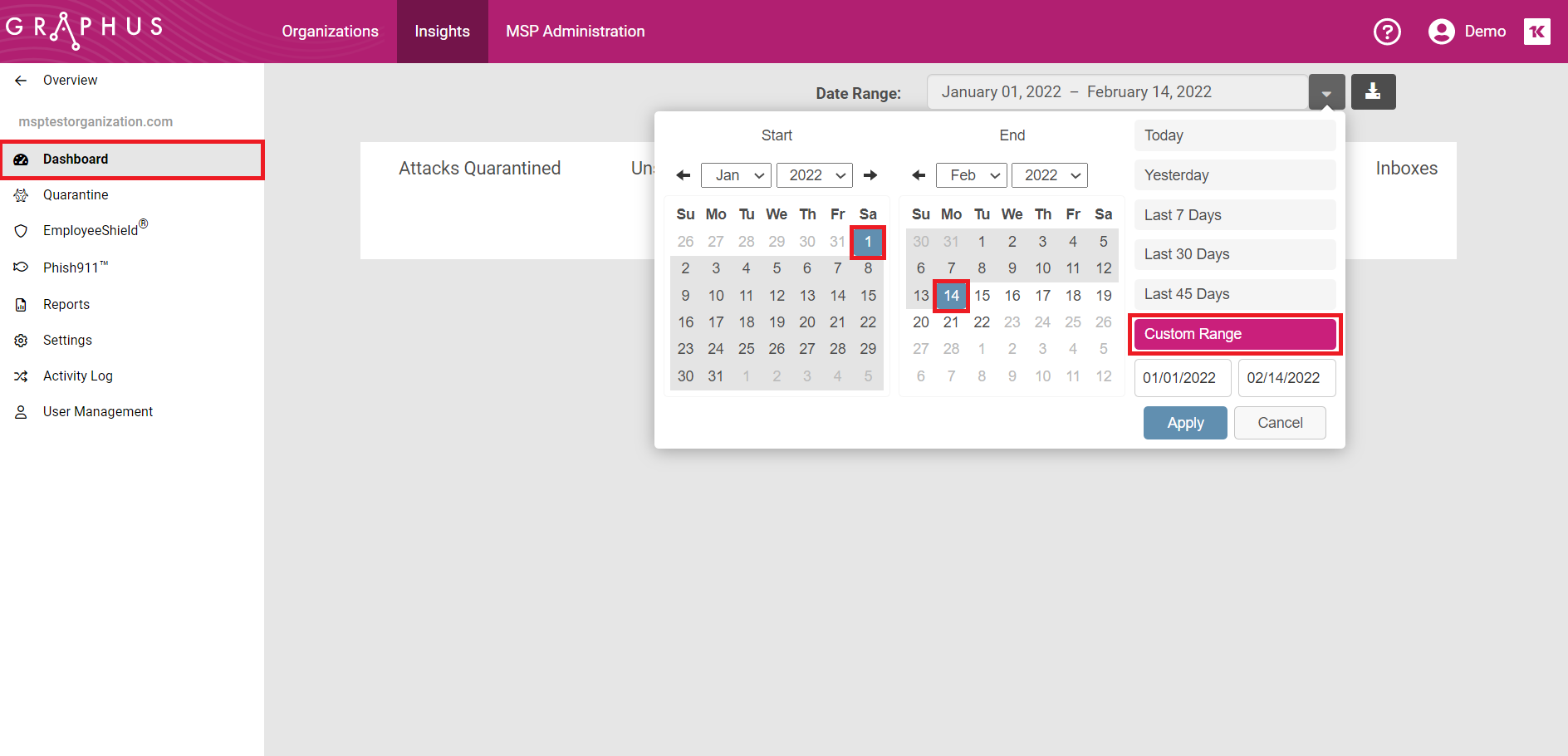 Graphus Rings in 2022 With New Features & Product Enhancements
The Graphus team is excited to announce the rollout of several new features designed to make you more productive, improve your product usage visibility, speed up the new client setup process and more.
License Management Automation
This new functionality gives you visibility into your Graphus subscription details. You will be able to see details of each item purchased, number of mailboxes purchased, contract start and end dates, and mailboxes in use and available to be used.
You will also start receiving emails and seeing proactive notifications via in-product banners when you reach 90% of all your purchased mailboxes, so you'll know ahead of time that you're getting close to the maximum threshold.
Once all available mailboxes have been used, you will be unable to add new licenses and organizations until you purchase additional mailboxes. The "Add Organizations" button will temporarily disappear and you will see a bold banner on your Org page prompting you to purchase more licenses before you can add more organizations. To purchase more mailboxes, contact your Account Manager.
Click here for more details on the new functionality.
Provisioning Speed Improvements
The Graphus team has introduced automation to the new customer creation and onboarding processes, which will reduce the time required for account creation, provisioning and associated customer email notifications.
Prior to this release, the process would take up to a day or sometimes longer. The new built-in automation will result in significant time saving since the account setup and provisioning will happen at least half a day to a day earlier than before. This means end users will get email protection quicker and MSPs can onboard customers faster and start billing them sooner.
Quarantine Accuracy Enhancement
The Graphus team has worked to improve our AI algorithms to reduce false positives to ensure that our already very low false positive rate (i.e., when legitimate emails are quarantined) is even lower.
Similarly, the improvements in the AI algorithm that performs email content analysis will also allow Graphus to recognize and remove more malicious emails, making it even more powerful and effective at protecting end-user mailboxes.
Coming Soon: New How-To Videos
The Graphus team is creating several brief in-product videos that will provide overviews and helpful instructions for commonly used Graphus features. Here are some of the videos coming in Q1 2022:
How to do a Phish911 investigation
How to set up EmployeeShield
How to set up executive spoofing protection
This is just the beginning. Several new self-help videos will come out every quarter to help you take full advantage of all Graphus features.
Graphus API and Group Protection Feature Released
RESTful API for 3rd Party Software Integration
The API enables you to incorporate the phishing attack intelligence from Graphus into your existing threat intel dashboard or your SIEM/SOC platform vs. having to log into the Graphus platform to check its insights dashboard.  There is a one-time integration fee to enable the API and you must be a paying Graphus customer to take advantage of this capability.   To enable the Graphus API, please contact your Account Manager or send an email to sales@graphus.ai and your Account Manager will contact you. The Graphus team has also created an API User Guide which can be found here.  
Self-Service Group Protection for MSP Customers
This MSP-requested self-service feature will allow Graphus MSP customers to provide email protection to a selected subset of users in an end user organization. This will allow MSPs to deploy Graphus to customers who may have limited budget. (However, we strongly recommend protecting ALL users in a customer's organization).   To set up the protected groups, please follow the instructions in this guide.
Phish911 Feature Gets an Enhancement
The Graphus team is excited to announce an enhancement to the Graphus Phish911 phishing email reporting feature. Phish911 is now integrated with MS Outlook's phishing reporting functionality, providing email users with a more streamlined way to report suspected phishing attacks. Phish911 serves as an additional layer of defense from phishing attacks and empowers employees to keep their organizations secure.
Our customers are likely familiar with the EmployeeShield warning banners on top of suspicious but possibly legitimate emails that ask recipients to either "Report Phishing" or "Mark as Safe". This feature will continue to remain in place. However, occasionally users may receive an email that doesn't have an EmployeeShield banner, but still looks suspicious to them.
They can now quickly and seamlessly report it to Graphus, which will also automatically remove the email from their inbox and from inboxes of any other employees who may have also received it. The IT staff will analyze the email to determine whether it's malicious or safe. If it's found to be malicious, the employee who reported it will be notified and the email will be kept in quarantine. If it's found to be safe, the employee will also be notified and the email will be released from quarantine and returned to the inboxes of the recipients.
There are 3 steps the Graphus customers need to take to activate the feature within their or their clients' Outlook environment:
Activate the functionality in Outlook
Activate the functionality in Graphus
Send an email notification to end users explaining how to use the feature and instructing them to re-start Outlook to begin seeing the new button.
The Graphus team has created a detailed, step-by-step activation guide that can be accessed here. The instructions have also been included in the Graphus onboarding materials in Kaseya University.
MSP Branding, Global Settings, and Self-Service Features
Several new, highly-requested features for MSPs were released in the Graphus portal on July 15.
With this new self-service functionality, MSPs are able to easily adjust a number of settings themselves vs. placing support tickets with us. MSPs admin can now save time by managing and configuring the settings for their end customers (organizations) from a central location in just a few clicks, vs. configuring settings for each organization individually. MSPs now have the flexibility to apply the settings to either all of their organizations or to a subset.
The new capabilities include:
Whitelabeling (allows MSPs to keep their brand front and center for their customers)

Reports: MSP can now configure report frequency (daily or monthly), set up the report recipients, and upload their logo and colors so the reports can feature their branding.
EmployeeShield Banner: MSPs can configure the same type of banner for all their customers from one place. They also have the ability to turn banners on and off for all or a subset of customers.

Whitelisting MSP can now whitelist trusted services they use by turning off Graphus detection on emails from certain trusted entities. This can be configured on the sender domain, smtp.mailfrom domain or IP address levels, and can be configured for all or a subset of their customers from one screen.
EmployeeShield Banner Warnings MSPs now have a new capability to adjust configurations to turn the EmployeeShiled application on/off on emails from suspicious and not yet trusted senders.
To make it easy for MSPs to take advantage of the new features, the Product team put together a reference guide – it's available here.
New Integration with Kaseya's BMS Helpdesk System
Graphus is now integrated with Kaseya BMS, a helpdesk ticketing system used by many of our customers. If you are a BMS user, you can now benefit from this new, time-saving workflow integration and seamless alerting process. Any time Graphus detects a phishing attack or a user reports a phishing email, a ticket will be generated in BMS. The ticket will contain the phishing email details, so you can better understand the attack and able to resolve it in your customary fashion. The new integration does not interfere with the existing Graphus setup or email flow.
How do I activate the Graphus-BMS integration? Configuring the integration is simple – you will need to enter certain details in the Settings sections of the Graphus customer portal and then test connectivity to BMS. To assist you with configuration and testing, the Graphus team created a brief Integration Guide. This user guide is available for review via the Graphus Knowledge Base. Visit the Settings section of Graphus to configure the integration.
Internal Account Attacks Detection
The email attacks that originate within an organization can be some of the most difficult to detect and stop. These attacks could occur when a malicious actor gains access to an employee's or executive's email account by using their compromised credentials. The attacker then attempts to perpetrate fraud or inflict damage by sending emails from the compromised account to coworkers, suppliers or business contacts requesting fund transfers, business credentials, proprietary data, etc. These attacks are missed by email security solutions and can cause significant losses and disruption to organizations.
Graphus now provides protection not only from external attacks but also from internal attacks via compromised email accounts. It automatically learns the communication patterns of internal account users and detects and flags suspicious emails sent from compromised accounts. This is one of the many powerful protection features provided by Graphus that make it stand apart from its competitors in the email security space.